If you're wondering how to buy us shares in Australia, you're making the right move. US shares are some of the most diverse in the world.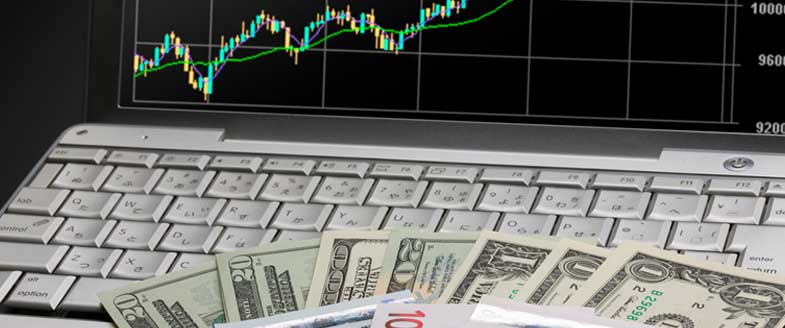 Below, we've run through a couple of reasons why the shares are worth your time and how you can get a hold of them.
How Do You Buy US Shares in Australia?
Buying US shares is that that hard. All you have to do is to find a shares trading platform (online brokers) that offers US shares.
The days of high monthly fees are over. Depending on the brand you're working with, the fees you'll be charged would differ and sometimes they are 0.
This is the broker I recommend:
ASIC Regulated
eToro Minimum Deposit: $200
CopyTrading

OPEN ACCOUNTAFSL 491139.Capital at risk. See PDS and TMD.
The broker you're interested in, should not only be affordable but should let you trade shares from the country you're interested in. This shouldn't be too much of an issue. The US stock market is widely invested in, so most brokers provide access to it.
If you're wondering how online brokers work, you'll be depositing cash into a virtual account, which will enable you to buy shares. The return you'll get from your investment is determined by the market and the fees you are paying. Take a look at the best trading platforms in Australia because they all have low fees.
Best Australian Brokers For US Shares
There are many online brokers out there and quite a few for Australians. Instead of working with just any broker, we've looked at three names that are most worth your time.
1.

eToro
eToro is widely seen as the most popular online broker in the world. This is mainly due to its campaigns with celebrities. You don't have to be an Australian citizen to make an account on the site. However, you won't be able to use their services if you're from the US.
Just like HFtrading, other fees will make up for it. Along with US shares, you can trade CFDs and FXs.
If you're a beginner, you might find their platform hard to use. They don't have that many resources. The available ones look more like outlines than educational guides.
There are demo accounts for you to use, however.
The broker offers 24/5 customer support. Unfortunately, you won't readily be able to contact them. There is a ticket system for you to use. We found their contact team helpful, though.
eToro is safe. Not only are they regulated by the ASIC, but by the cySEC as well. The FCA authorizes them.
Do you need more information about eToro? Read the
eToro Review
.
2.

HFtrading

HFtrading is secure. It's authorized and regulated by the Australian Securities and Investments Commission. It is also regulated by the New Zealand Financial Market. The ASIC ensures that it always has enough capital and does proper audits of its system.
If you live outside Australia and New Zealand, you won't be able to make an HFtrading account. The platform is also available only in English. Since only Aussies and Kiwis have access to it, this shouldn't be an issue.
HFtrading is easy to create an account on. It took less than five minutes and the platform is easy to use. There is a mobile app as well.
You can trade various asset classes on the platform. There is a large number of American stocks. As of now, you're getting 17 commodities, 50 FX pairs, 51 cryptocurrencies, 214 Share CFDs, and 3 ETFs too.
We're happy to say that you won't be charged brokerage fees. However, the site has other fees in place.
They also have ample learning resources and demo accounts for you to learn the tricks of the trade.
Their customer service is available every work day and is pretty helpful.
Do you need more information about HFTrading? Visit
HFtrading
.
3.

IGtrading
This service charges a brokerage fee. You'll be paying AUD 8. However, they let you trade the largest number of CFDs in the world.  They also have US stocks and Forex for you to purchase. Their assortment is so huge that you get over 13,000 shares in total.
If you're not from Australia, you won't be able to make an account on the platform. We're happy to say that it's a speedy process.
They have a good research centre. They also have analytical tools for you to track the market.
The broker is well-regulated. They are authorized by the Australian Securities and Investments Commission. Your cash is kept in a segregated account.
IGtrading offers demo accounts. You also get 24-hour customer support. Unlike eToro, you won't be contacting them exclusively through tickets. There is email and free call support.
What to Look For In Trading Platforms?
You now know which brokers are worth your time. If you want to work with anyone else, the below points will help you know if you're working with the right site.
Brokerage Fees
Every time you trade, you will be charged a fee. Each broker would charge a different amount. Some sites don't charge brokerage fees at all. Just so you know, the fees they'll charge for Australian stocks would differ.
Exchange Rate
The strength of the AUD will influence the broker's exchange rate. But this depends on who you're working with.
Research
If you're new to trading, you won't find it easy at first. That's why brokers have research centres full of educational materials. The best offer has informative guides and videos.
You'll also need market research to make the best investments. Brokers are known to offer news and statistics about how companies are doing.
Ease of Use
Even if a broker meets the above criteria, you shouldn't work with them if they're not easy to use. They should also have mobile apps as trading on the phone is more convenient than the PC. Unfortunately, it's common for brokers to have mobile apps, but not provide as many features as their web versions.
Monthly Fees
Not only would you be charged brokerage fees, but you'd have to pay membership fees as well. As you can imagine, this would differ per platform.
Customer Support
No matter how great the site is, you're bound to face issues along the road. They should have excellent customer support. Although 24/7 support is the best, not many brokers offer this.
Why Buy US Shares?
US shares have outperformed Australian shares for so long. Just look at this chart:
The Largest Market Cap
You might be unfamiliar with the term "market capitalization".
This is the total amount of shares you can trade from a company.
What you should keep in mind about the US is that it has the largest market capitalization in the world.
It has beaten economic powerhouses like China and India. Its market capitalization is 5 times larger than China's and has the most liquidity in the world.
Currency Changes
As an Australian, you'd know the Australian Dollar is one of the strongest currencies in the world. However, it's not as strong as the USD.
The currency level between the two keeps changing. If you invest in American stocks and the AUD depreciates, you'd get a higher return.
Unfortunately, the Australian dollar has been weakening. On 20th March 2020, 1 USD equalled to 1.67 AUD in a record high.
You'll Internationally Be Investing
When you think of investing in the US stock market (Nasdaq), you might presume that you're investing in American companies.
This isn't true.
The market consists of several international names that have infiltrated it.
Why would they do this? Because people from all over the world invest in US stocks.
The S&P 500 is a US index that monitors 500 of the largest companies in the market, and their market capitalization. In 2017, they found that almost 44% of its revenue came from outside America. Around 8% was from Asia alone!
You'll Be Investing With The Best
Amazon is the leading e-commerce site in the world which keeps growing. Facebook, Apple, Netflix, and Google make up 10% of the S&P 500 value. Together, FAANG has an impressive market capitalization of over $3 trillion.
The Commissions Are Low
Trading US stocks is popular. You'll easily find brokers that will let you invest in stocks for cheap. This is especially true for Australia as the number of brokers available for Aussies is immense.
Final Thoughts
Whether you're from Australia or not, getting hold of US stocks is a good move. American companies are some of the largest in the world. This is especially true for FAANG (Facebook, Apple, Amazon, Netflix and Google). The US stock market has the most liquidity and is very diverse. A lot of the companies that are part of it are based outside the US.
If you want to purchase American shares, your best bet is to work with an online broker. From the options available, we recommend:
HFtrading
eToro
IGtrading
We believe HFtrading is the best as it comes with the best selection of educational materials. We also found its customer support to be the most helpful. However, eToro and IGtrading are just as good.
If you're thinking of investing in US stocks, don't hesitate to take the leap. You will be glad you did, as the US market offers diverse options, including several international stocks as well.