Sunshine is a loan agency based in Australia. They are solution providers when you have a bad day in terms of finance.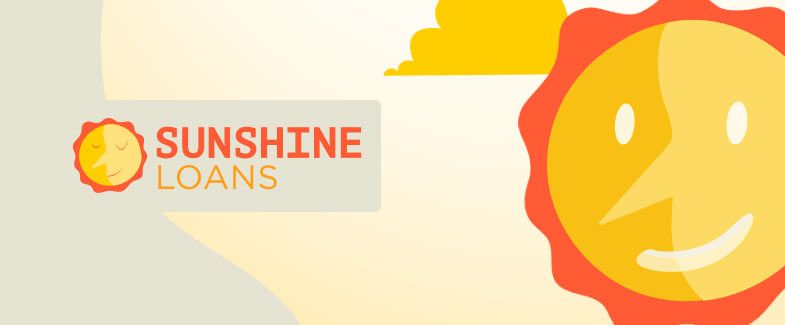 Think of them as the rainy day fund experts. After all, it is their tag.
Sunshine specializes in different types of short term loans. You can get a loan of anywhere from $150 to $2,000.
How does it work?
Sunshine provides loans with interest on the loan payable amount. You can apply online through their website. The process only takes a few minutes.
A team member will assess your request before sending you a contract.
You will need to electronically sign the contract before submitting it since it is digital. After agreeing to the contract terms, you will then receive the funds in your bank account.
Is Sunshine safe?
Before applying for a loan from any lender, it is crucial to ascertain that the lender is safe.
Yes, Sunshine is safe. It is compliant with the National Consumer Credit Protection Act 2009. It is also licensed – Australian Credit, under number 390556.
Sunshine is also committed to responsible lending and lays a warning about borrowing. Besides, every loan application is carefully and accurately reviewed.
The Australian government dictates that Sunshine, like any other lender, adhere to some regulations. These regulations include:
Doing a background on your financial situation to determine your status, requirements, and objectives of the loan you are borrowing
Ascertaining that the information you provide about your income is accurate and reflects your financial status
Offering you only a credit that you can be able to repay comfortably
Sunshine also provides you with a copy of your suitability assessment under various circumstances.
Before accepting a loan contract
Sunshine will provide you with a copy of suitability assessment if you request for it before signing the loan contract
After two years into the contract
You can still ask for a copy of Sunshine's evaluation of your suitability for the loan even after signing the contract. If it happens within two years of starting, Sunshine is obligated to provide it within 7 business days.
After seven years into the contract
Sunshine is mandated to provide you with a copy of their assessment of your suitability for the credit within seven years of entering into a contract. However, it may take anywhere between 1 to 21 business days to have it ready.
Also, Sunshine undertakes credit checks. In the event you have a bad credit, you can still get help from Sunshine.
It is worth noting that Sunshine is rated great by TrustPilot. It has an average score of 4 out of 5.
Why Australian prefer Sunshine Loans
There are a number of reasons that make Sunshine a worth lender.
Sunshine is Australian based
It has been in operation for about two decades having started in 1999
The online loan application process is simple and secure
Sunshine lays open their fees and terms on the website clearly
There is no penalty in the event you pay off your loan early
Eligibility
To qualify for a loan from Sunshine, you must meet the following requirements.
Be 18 years of age or more
Have a regular income source – at least $300 per week. Government benefits such as Centrelink count as income but they should not be your only source of income
Be an Australian resident
You may be required to provide documents that verify the information you have provided.
Application
Applying for a loan from Sunshine is simple. The process only takes a few minutes.
All you need to do is visit Sunshine Loan's website and then click 'Apply Now.' The next webpage will guide you depending on whether it is your first time or not.
If it is your first time, you will be required to fill your details. Next, you will provide details about your income.
The next step will involve you confirming your identity.
After submitting your application, it will be assessed by an available team member aided with analytical software. If your application is approved, an online contract will be sent to you.
Upon signing the contract, the funds will be transferred to your bank account.
When applying for the loan, you will need to provide the following information:
Details of your income source. This includes government benefits.
Proof of your identification. You can use either an Australian Driver's License, passport, or age card.
Bank account details
For applicants who are previous customers, the application process has been simplified.
The upside of Sunshine loans
Sunshine loans have fast approval & funds can even be transferred to your account on the same day
Sunshine can offer you a loan even though you have poor credit as credit checks are not the only part of the assessment
You can borrow as low as $150 from Sunshine
Sunshine loans have a fixed rate, and additional charges are clearly outlined
The downside of Sunshine loans
You are charged an arrear fee of $30 weekly which can be a turn-off
Sunshine loans have limiting terms
Short term loan from Sunshine
If you are looking for a lender that offers short term loans, Sunshine is your best bet. Sunshine has helped several Australians overcome financial hitches.
When applying for this loan, it is important to keep in mind the loan term, all the charges involved, repayment schedule, your credit report, and the ability to repay it.
Applying for a short term loan that you can't settle can be disastrous. It will put you in a situation worse than before.
What is a short term loan?
As the name suggests, a short term loan refers to a small cash loan that has a short repayment term. Typically, short term loans have a term that doesn't exceed one year. Short term loans at Sunshine have a loan term of 9 weeks.
The minimum and maximum amount you can borrow is $150 and $2,000, respectively. It has a quick application and approval process.
What are the benefits of a short term loan?
Short term loans have a flexibility
You can repay the loan early without incurring any charges
It is processed almost instantly, and you get funds transferred into your account as soon as possible
They carry no hidden charges
The application process is simple and takes a short time. Forget about long queues and tiring paperwork
You can apply for the loan any time of the day because online services are available 24/7
How long does approval take on a short term loan?
It takes a short whole to approve this loan. You can apply for the loan in the morning hours of a business day and get feedback before the end of that day.
Sunshine offers you short term loans in different options. You can apply for any of the loans depending on your financial situation.
1.

Bad credit loan

If you have black marks in your credit file, your credit score will likely be below average. Getting a loan if you have bad credit can be challenging. Sunshine can make it easy for you.

Sunshine is open to listening to your case if you are looking for a loan with bad credit. You can get a loan of up to $2,000. However, Sunshine will first ensure that you can repay the loan.

Other factors will be considered while assessing your loan application. This includes your financial ability, income source, and employment status.

There is really no catch when it comes to bad credit loans. The fees and loan terms are outlined well so that you don't miss a thing. Charges such as establishment fees and monthly loan fees are applicable. Other charges, such as those of delayed payments also apply.
2.

Emergency cash loan

Unexpected bills such as medical expenses and utility can blow your budget. If it happens to you, you can get a quick cash loan from Sunshine. The upside of cash loans from Sunshine is that they don't have a lengthy application process involving paperwork and meetings.

You can borrow any amount up to $2,000. The loan approval is also fast. Besides, Sunshine doesn't limit you on what you can use the loan for. You can use your loan to cover almost everything, including:
Medical bills
Rent
Utility bills
Court fines
Car Repair
University fees
Travel expenses
Home renovation
The loan is to be paid within 9 weeks but it doesn't cost you any fees if you repay early.
3.

Fast Cash loan

Just like the emergency cash loan, you can apply for a cash loan of up to $2,000. A quick cash loan can be convenient when you need some extra cash. A credit check may be done as part of the loan assessment.

Even with bad credit, Sunshine can still offer you a loan. Your income will also be factored to ensure you can repay your loan.

Fixed fees such as establishment fees and monthly loan fee apply.
4.

Instant loans

You can apply for an instant loan of an amount as low as $200. Instant loans are processed quickly and can be useful when you need some cash quickly.

If you apply for the loan during the week on normal business hours, you will get feedback on the same day. The money will even be deposited to your account on the same day.
5.

Online loans

As rainy day fund experts, Sunshine offers online loans of up to $2,000 with fast approval. The online application procedure is fast and secure. Upon approval, the funds are deposited into your bank account sometimes on the day you apply.

There is no paperwork, queues, or meetings involved at all. You can apply for the online loan at any time of the day (24/7 basis). You may be asked to provide supporting documents such as bank statements, proof of age card and details of government benefit accounts in other cases.

If successful, a digital contract will be sent to you. If you sign the contract before 4:30 PM AEST, you will get your cash on the same day.

At times, bank processing time might affect when you receive your loan.
Loan Costs
For all loans from Sunshine, the charges are fixed. Some of the fees you will be charged are:
An establishment fee that is 20% of the loan amount borrowed
A monthly loan fee set at 4% of the loan amount
Depending on the circumstance, additional fees may also apply. For instance:
In case of a missed or rescheduled payment, you will be charged $35 as a dishonor fee.
If your account remains in arrears – beyond the set completion date, you will be charged a weekly fee of $30. This is taken as fees for managing your account.
Loan Repayment
Sunshine will set up a direct debit for your loan repayment. There is still an option for you to make manual payments either using a debit card or through BPay.
Customer Support
At the website, just below the homepage, there is a link that leads you to Frequently Asked Questions under the 'Info' tab. The frequently asked question section is rich with relevant solutions.
If you can't find an answer to your question, you can get in touch with a Customer service member to help you. There are different methods through which you can contact customer support, including phone and email.
METHOD
ADDRESS/ CONTACT NO.
Phone
07 5526 8866
(9:00am to 4:00pm QLD time)
Email
[email protected]
Office Locations
50 Cavill Ave,

Surfers Paradise QLD 4217,

Australia
In the case you want to complain about the services at Sunshine, you can use the phone number 07 5646 5969
Should you feel like your issue hasn't been resolved, you can raise a complaint with the Australian Financial Complaints Authority.
Other Features
Aside from loan provision, Sunshine has more to offer. Sunshine has a section for blogs, credit guide, and resource hub as well. Links to these sections are found just below the homepage under the 'Info' tab.
Resource Hub
At the resource hub, you have access to some tools, planner and guides that have useful insight. The tools and guides are not limited to financial matters alone. The resource hub has engaging content that is meant to help you through life.
Some of the featured items include:
QUIZ: Which TV Character Matches Your Money Habits?
Monthly Budget Planner
Blogs
Apart from the resource hub, there is a blog section. This section contains motivating and thrilling posts. While some posts focus on matters about finance, others are just but life tips to make your journey easier. Some of the blogposts already posted include:
Developing a 5-Year Career Plan
Finding Discounts in Your Area
3 Top Tips for Owning Your Finances
How to Improve Your Credit Score
Credit Guide
Under this section, Sunshine provides customers with a guide about loan options. This ensures that customers are equipped with everything they need to know before deciding on the loan they want to borrow.
Bottom line
While some customers find the loan term restrictive, it will be unfair to say Sunshine is less than a good loan agency. If you are in need of a little cash boost within the shortest time possible, Sunshine is your best deal.
The short term loan comes with manageable repayment fees. Sunshine has lots of positive comments and little to no negative ones.
Frequently Asked Questions
Can I apply and get a loan if I am unemployed?
If you are currently unemployed, Sunshine may find it difficult to help you. Sunshine requires that you earn a minimum take-home pay of $300 per week.
Centrelink and other government benefits can be considered so long as the benefits don't make up 50+% of your income.
Do I meet the eligibility criteria if I'm self-employed?
Yes. Sunshine provides loans to any Australian so long as you meet the eligibility criteria. In terms of employment, if you are part-time, full-time or self-employed, you still qualify so long as you earn not less than $300 weekly.
What happens if I am late on my payment?
At Sunshine, they understand that some unforeseen circumstances can make you not be able to pay the amount due on time. If this is the case, you will need to contact customer support immediately.
Sunshine will lay out some viable options for you. It is important to get in touch with customer support as soon as possible. This is because a 2-day notice is needed before rescheduling or making repayment adjustments
What happens if I fail to make payment?
If you miss paying the loan amount you owe, you will be charged an extra fee. As with the case of late repayment, it is good to contact customer support in advance. This will allow them to draw up solutions you can go for.
What are the office operating hours at Sunshine?
Sunshine operates on Queensland Time (QLD) and is open from 9:00 am to 4:00 pm during weekdays. For the online application, you are not limited to a time interval since it is open 24/7.
Can I apply for more when I have a loan already?
Sunshine doesn't allow you to apply for another loan if you already have a pre-existing loan. To apply for another loan, you have to settle the pre-existing loan fully.