Learn how to become a delivery driver without formal qualifications by getting on-the-job training.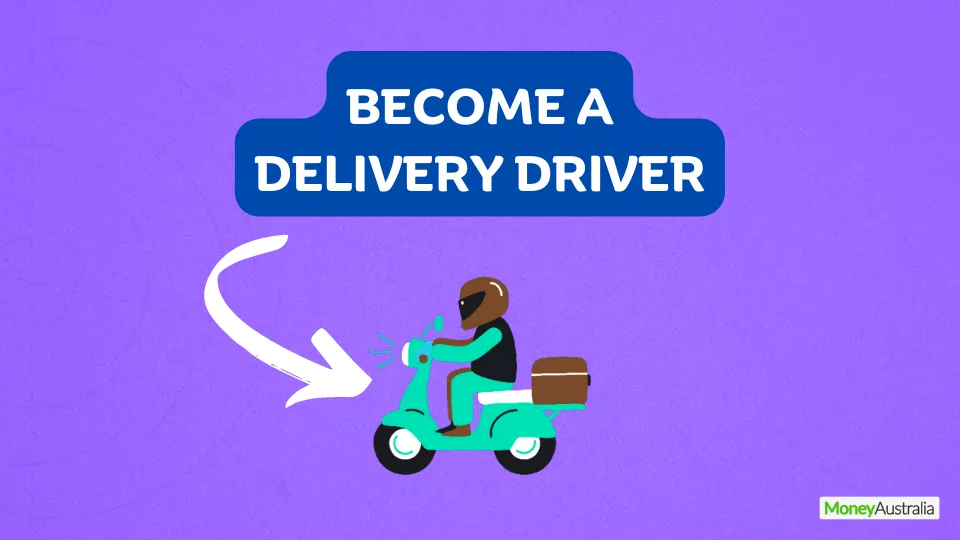 Driving a vehicle to transport goods or people within a specified area might be a good fit for you if you are observant, alert, and enjoy driving on city roads.
Becoming a delivery driver is a common interest among job-seekers with good driving skills who have a desire to work flexible hours.
So what is the secret that could pedal you into the driving seat of this high-demand cargo?
How To Start As A Delivery Driver in Australia
Initiating a career as a delivery driver chiefly involves acquiring your driver's licence and completing a VET qualification in driving operations, if required by your employer. A majority of employers also prefer an insignificant Year 10 education.
Furthermore, improving key skills such as customer service, safety awareness and manual handling knowledge will boost your resume.
Equally important is achieving a good driving record, demonstrating your proficiency in manually loading/unloading products.
To determine the type of vehicle and delivery you will handle, it's crucial to first understand the primary responsibilities of the delivery driver role.
These include ensuring timely and safe product delivery, showcasing exceptional customer service and completing all delivery related paperwork.
By driving in various weather conditions and loading/unloading various items like food, furniture, and equipment, you not only gain experience and resilience but also manage to enhance your driving and handling skills.
Compare Salaries
The average salary of a delivery driver in Australia is AUD 58,000 per year.
However, the salary range can greatly vary based on a multitude of factors such as region, type of deliveries, work hours etc.
For instance, those transporting heavy equipment or working odd hours may receive a higher pay.
The upside of choosing a delivery as a career is the projected job growth of 15.1%, implying more career opportunities and potentially better salaries in the future.
Heavy vehicle drivers and those with additional training or academic experience often enjoy a higher pay.
However, the salary is almost always proportional to factors like job roles, kind of deliveries, driving skills and more.
It's therefore recommended that aspiring drivers research thoroughly on the salaries in their desired region and field.
Skills That Delivery Driver Companies Look For
Being a delivery driver demands more than the ability to drive. Employers are looking for individuals who will not just transport goods but also provide exceptional customer service.
Primarily, a valid driver's licence is a must-have.
Safety awareness is critical because, as a driver, being alert and anticipating other drivers is key.
A solid driving record is also recommended as this demonstrates your law-abiding driving style.
Employers also want drivers who possess soft skills such as being punctual, dependable, and approachable.
Good communication skills help enhance your interaction with customers and your overall customer service.
Manual handling ability is necessary for loading and unloading.
You must handle pressure well, be a hard worker, exhibit neat personal presentation, have exceptional customer service skills, be physically fit, and possess great time management skills.
Roles To Explore Based On Skills
There are various delivery driver jobs available depending on the kind of deliveries, delivery type, and vehicles involved. The common delivery drivers' job roles include
Uber Eats Delivery Person: These people use bicycles, cars, or motorcycles to deliver food.
Courier Agencies: Couriers deliver a range of items using vans or light vans.
How to Join Australia Post as a Delivery Driver: These drivers deliver mail and parcels to homes and businesses, using branded vehicles.
Here, skills like good organization skills, great time management skills, and exceptional customer service can play a vital role.
Furthermore, ability to handle pressure and manifests and engaging with the public effectively also plays a crucial role in a delivery driver's job role.
Upskill With Online Course
Although you don't need any formal qualifications to work as a delivery driver, academic experience or a VET qualification in driving operations may give you an edge in the hiring process.
Relevant Delivery Driver Courses in Australia are widely available online. They could help boost your resume, provide necessary skills, and improve your job outlook.
Most of these courses would cover essential topics such as:
load and unload goods
handle delivery payments
ensure deliveries reach destination on time
decide right vehicle for delivery
complete relevant paperwork
Upon completion, you should be ready to apply for delivery driver jobs and work in any part of Australia, including city to country.
Is Delivery Driver The Right Role?
As a Delivery Driver, you will operate vehicles like cars, vans, trucks, or even bicycles and motorcycles, depending on delivery type, and transport goods to different destinations across the country.
Responsibilities include ensuring safe and timely deliveries, providing exceptional customer service, and completing delivery related paperwork.
There are typically no formal qualifications required, but a driver's license and in some cases a MR licence or HR licence may be needed.
You can boost your resume by taking a VET qualification in driving operations.
Key skills for Delivery Drivers include safe driving skills, good organization skills, customer service abilities, manual handling, and time management.
If you are a punctual, reliable individual with a good driving record and you enjoy working alone or in a small team, becoming a Delivery Driver might be the right career for you.
Latest Driver Reviews
Overall, Delivery Drivers in Australia have a job satisfaction rating of 3.7 out of 5, based on 87 reviews.
One driver on Facebook expressed satisfaction with his flexible work schedule, saying it provided a good work-life balance.
According to a YouTube post by a Uber Eats Delivery Person, another positive is the sense of autonomy and the ability to work part-time and choose your own shifts.
The feedback also pointed out the challenges of driving in different weather conditions and coping with stressful conditions.
On Instagram, an Aboriginal delivery driver appreciated the understanding and support of the Department of Training and Workforce Development and the opportunity to work for Australia Post.
Remember, what works for one might not work for someone else so reviews are subjective. However, they can provide valuable insights.
Delivery Driver Careers
To become a delivery driver, there are a plethora of career opportunities. Some roles include the Uber Eats Delivery Person and vehicles can range from cars, bicycles, motorcycles, light vans up to heavy vehicles.
You might also consider a position as an Aboriginal courier in areas such as Western Australia.
Bicycle couriers are also in high demand in metropolitan cities.
Roles within courier agencies and delivery companies offer plenty of job satisfaction and potential career growth opportunities.
Delivery driver jobs are available in various industries such as food, furniture, mail, and white goods distribution.