Looking to make some extra cash? It's easier than ever with the internet, so we decided to talk about some amazing options out there.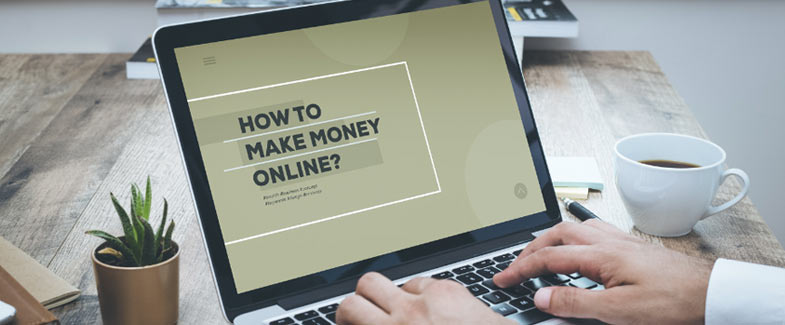 They are a mix of short-term and long-term solutions, with some promising more cash than others. Why don't we dive in?
Here are 10 Real Ways to Earn Money Online in Australia:
1. Trading Shares
A share is a portion of a company. When a company does well, its value goes up. This increases the value of your stock, which is where you'd sell it.
You can also make cash through dividends. They are portions that companies pay shareholders, off their profits. The amount paid depends on the percentage of the company you hold.
To trade shares, you'll have to work with an online broker. When looking for one, make note of its fees, ease-of-use, assets, stocks available, and customer support. Larger names are usually better. Take a look at the best Netflix, Disney and Tesla brokers.
2. Invest in Bitcoin
Along with trading shares, investing in Bitcoin would make you the most money. Bitcoins are internet assets. You can spend them like cash.
You will need a digital wallet to invest in them. When you use one, you'd then need to join a Bitcoin exchange.
When buying them, you'll realize that just one would cost thousands of dollars.
That's why you're allowed to purchase them in fractions, the smallest unit being a satoshi. When their price rises, you can sell your portion and make a profit. This is similar to how stocks work.
You need to be well educated on the market when investing in them, as they could drop in value sharply. But this is true for any asset, including stocks.
In terms of where you should be trading them, the best would be Coinshare. However, more popular names like Robinhood are good too.
Check out the list with the best brokers for trading crypto
here
.
3. Blogging
Making money from home in Australia is not that hard. One of the ways is through blogging.
It's easier than you think:
Sign up with Bluehost
Pick a hosting plan and a domain name
1-Click-Install WordPress
You don't have to be a programmer to get started.
If you do it right, you can make a lot of money through blogs. You would have to grow your site until it has an audience. Then, you'll be making money through advertisements and affiliate programs. Once your site is successful enough, you can sell it for thousands of dollars.
What are affiliate programs? They are partnerships you make with brands. You can find them by joining affiliate marketing networks. They review how well your site is doing, deciding if you're worth letting in or not. You will get links to post on articles. They could be product links, which you get a percentage off if your readers make a purchase. You could also generate cash by sending them to the brand's page.
Anyone can start a blog. Making it successful can be tricky, though. You don't just need to have good writing, you'd have to invest time and money in marketing tactics to boost how well you do, like your position on Google's search results. This would make you more accessible – people tend to find websites on the top of the results the most reliable. They also don't scroll very far, so you'll have the largest reach being up there.
When creating your blog, make sure that it's about something people are interested in. You'd be investing your time and money trying to promote a site no one would visit otherwise.
4. Freelancing
You probably have skills in a certain field. You can rent them out on the internet. You can do this by joining freelancing sites like Freelancer or Upwork, or advertise on Facebook and other social media. Most of these sites let you decide how much you want to charge. They also let you include how many hours you're willing to work. Be careful of people that don't pay, though. There are stories of people doing work on Upwork and never getting paid.
If you're serious about freelancing, try to connect with your clients. This would give you a pool of people coming back to you. They're legit, so you don't have to worry about not receiving your money.
If you give it some time, word may get around about how good you are. This would lead people coming to you. You'll also be able to charge more for your services.
When starting, make sure that you have a great portfolio. You also need experience – clients are not going to want to work with somebody with no history. It's okay to take the first few tasks for very little. This would help you build your profile up.
In terms of the things you can freelance for, here are a few:
Writing – doing blog articles, resumes, proofreading and editing.
Video production – you could do marketing and promotional content.
Languages – you could translate texts.
IT – developing apps and programs is possible.
Web design – designing sites for clients, creating templates for sites and apps.
Even if you don't have a skill, you can do data entry. The name is self-explanatory. We'll be diving more into it in the section below.
5. Data Entry
Whether you're Australian or not, you've probably heard of data entry before. It's something that everyone has tried out at least once. Companies work with data, which they need to input into their systems. Instead of paying someone a salary to regularly do it, they can hire you part-time over the internet. They'll not only be saving on a salary, but space as you won't be inhabiting their physical office.
A lot of the sites that offer data entry are freelancing ones. You don't need any skills for the job – you're just inputting data. And you can do it across any field, so it's very appealing. If you're interested, look on forums for trustworthy names in the game. This would tell you the people that are the most worth your time.
You probably won't be deciding on your rates. The team would give you a sum for a set amunt of information to input.
6. Virtual Assistant
All major jobs require assistants. Thankfully, you don't need to be at an office to assist someone. The job just requires you to do things like responding to emails, organizing meetings, handling spreadsheets, and other administration work. You also don't need to be qualified to do the above. But most people who are looking for virtual assistants hire people who are experienced. They also hire VA's as full-time employees, so you'll be getting a good salary. This would make it one of the highest-earning entries on our list.
The beauty of being a virtual assistant is that it's a job on the rise. More companies are looking for them as they save physical space and they don't have to pay things like employee funds. And as it's just admin work, you can get flexible with your schedule. That's why you'll see a lot of moms taking part in the jobs.
In terms of how you can find positions, looking through job listings as you normally would, would help. There are Facebook pages looking to set clients up with VAs too.
7. Online Surveys
Surveys are one of the easiest ways to make cash. That being said, you won't make as much trading shares or investing in Bitcoin. You'd get paid for a set of questions, so if you keep doing them on multiple sites, you might think you'd earn some good pocket money. Unfortunately, a lot of these platforms restrict how many surveys you can answer. This prevents you from making large sums.
You may be wondering why you'd get paid to answer questions. It's because of marketing. Companies need to know what consumers think before launching products. They also need to know what they think before investing in products. Getting to know what the general public thinks also helps them refine their services.
But as there are many survey sites available, you should be careful. A good chunk of them are fake. If their site isn't professional, they most likely are not worth your time.
Instead of using survey sites, you can make more money. You might see specific questionnaires by companies on Facebook or forums like Reddit. Their rates are the best.
8. Online Shop
When it comes to Australia, the most popular online store would be Amazon. eBay isn't far behind, neither is Etsy. All of them charge a fee. You need to sell your products at a good rate to make a profit. We enjoy that you can sell all sorts of goods. The fact that you can set their prices to anything is great as well. However, getting too steep would turn people away.
Be mindful that you could be spending quite a bit. It might be very expensive to cover the shipping charges of whatever you're selling.
Owning an online shop won't always be fun. You'll occasionally be dealing with angry customers.
To get the most cash, find a niche that buyers are interested in. It shouldn't be too saturated, though. This would not give you any room to succeed.
9.  Air BnB
We believe using Air BnB still falls into making cash online as you'll be listing your home on the internet, finding people to rent it to. We just had to include it as it's up there as one of the most lucrative things you could do part-time. We didn't list it higher up as it's not as "making cash online" as our other points.
You can completely rent your home out, making cash when you're out-of-town. Or you could give out a room occasionally to boarders. How well-maintained your space is will influence how much you would make.
One of the best things is that you'll be listing your home for free. Not only would you be able to decide when you want people to visit, but you can decide on the rates too.
To make sure that your home is in the best hands, you can set a list of requirements. People who don't fit them won't be allowed in.
Of course, you may be worried about guests damaging your property. Air BnB is willing to reimburse you up to USD 1,000,000. That being said, their guarantee doesn't cover theft of securities, bodily injury, or damages to your home due to its age or condition.
You don't have to be nervous about utilizing the service. The company's user community is huge. There are many forums and blog articles to help you get the best possible experience. The site itself has a resource center to utilize. They have a global 24/7 team as well, so you can make cash without worrying about anything.
10. Online Tutoring
If you're knowledgeable in a certain subject, you can tutor students over the internet, on platforms like Zoom and Skype. Tutoring in general is a lot of work, though. You'll also be heavily invested in how your students are doing, so it'll be exhausting.
Instead of teaching, you can do something similar and create notes for students. When doing this, you need to make sure that you understand their syllabus and the subjects you need to cover. The exam board they're studying for may want information being taught a specific way.
Your success not only depends on how effective you are, but how good you are at making connections. You should be able to make students want to keep coming back to you. You're easily replaceable after all.
Final Thoughts
As you can see there are many ways to earn money from home.
There are many ways for you to make cash online in Australia. One of the most popular ways would be through trading stocks as well as investing in bitcoins. However, you can make a pretty penny through freelancing and being a virtual assistant too. You can especially make a lot if you use sites like Air BnB to rent your home to tenants.
Some options like doing surveys and data entry are the easiest, but they don't pay that much. Also, keep in mind who you're working with when looking for data entry jobs. A lot of them tend to be scams.
All in all, what do you think? If you're strapped for cash, the above points would help you find work. They're a great mix of long-term and short-term solutions.